Implementing NetSuite at their various locations was just the first step they took in modernizing their operations. Previously using a custom WMS and shipping tool, Beauty Industry Group Programming Lead Michael Montero wanted a mobile inventory solution that would allow for better efficiencies and provide inventory features their previous system did not have – not to mention being more reliable.
Search for a WMS Solution
"My recommendation to our team was that if we were going to invest in NetSuite, we should also invest in a WMS to make the most of our systems," Michael said.
The team at Beauty Industry Group initially chose another solution. However, they stopped mid-implementation as that solution was unreliable and inconsistent. "It was not tried and tested, and was very slow," said Michael.
Evaluating several other mobile inventory management solutions, the Beauty Industry Group team chose RF-SMART. Not only did their NetSuite consultant recommend it, but after seeing the demo, Michael realized that RF-SMART would do everything they needed, including scheduling and cycle counting. "Seeing it in action showed us that it was going to work for our needs," said Michael.
Inventory Goals: Control, Accuracy and Speed
"Our main goal with implementing RF-SMART was increasing the speed of our transactions," said Michael. In their manufacturing operation, they receive raw goods, complete assembly builds and view WIP (Work in Process) products with RF-SMART. In distribution, they use everything from receiving, putaway, bin replenishment and transfers, to fulfilling orders. "Because RF-SMART tells employees where to go, receiving is much quicker now. It takes half the time," said Michael. Putaway is also quicker as RF-SMART allows for primary bins, which will automatically decrement and receive into those bins.
Another goal was to increase the accuracy of their inventory. Previously having no system in place as to when to complete cycle counting, the team at Beauty Industry Group now uses RF-SMART to trigger what items should be counted. Eliminating yearly inventory counts, regular cycle counts have resulted in an accurate inventory, which means less inventory adjustments need to be made. Using an ABC inventory assignment method with RF-SMART, a portion of their inventory is counted on a weekly basis – without requiring additional oversight from Michael.
"We can trust our inventory now because the numbers are true," said Michael.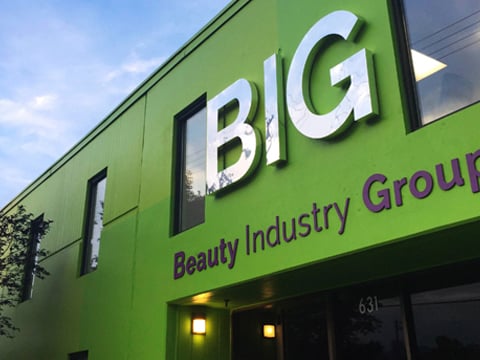 Improving Shipping Time
With a lot of small B2B orders to get out – and the demand for fast order fulfillment high – Beauty Industry Group relies heavily on Pick, Pack, Ship from RF-SMART. "Improving our shipping was one of the most important objectives," said Michael. "RF-SMART's Pick, Pack, Ship works 100% of the time."
Pick, Pack, Ship lets Beauty Industry Group employees scan the sales order to prompt them to pick the
order, then pack it and print the shipping label. Completing these tasks by a single employee from a single workflow saves time and decreases errors. In fact, errors are down from 1.5% to 0.3%. For large orders to distributors, they use Pack Station, which gives flexibility to allow different employees to complete picking or packing. "RF-SMART allows us to use two different processes for shipping because that's what works best for us," said Michael.
Goals Achieved
Implementing RF-SMART has resulted in more than inventory control and accuracy. "Now, we're firing on all cylinders," Michael said. Their warehouse has been streamlined and Michael is better able to utilize their resources with the information from the RF-SMART reporting dashboards.
The addition of bins has been a profound difference. "Having accurate inventory in bins has increased the efficiency for our sales order pick, pack, ship process," said Michael. Employees are no longer wandering around the warehouse, tracking down items. "We can trust that our product is in the correct location, and we know what items are back-ordered," said Michael. "It's very important that our inventory numbers are correct in NetSuite.
"With RF-SMART controlling the inventory, our website correctly reflects what is available to customers." Customers are receiving better service and with the increased level of confidence in their inventory, the
Beauty Industry Group team is comfortable and confident as their volume increases.
Another unexpected benefit was the easy administration. "Training new users takes about 15 minutes because RF-SMART is logical," said Michael. "After we show them how to use it, our employees are off and running with it. RF-SMART works and it makes sense." Even handling new NetSuite releases and RF-SMART updates is easy. "RF-SMART Support walked me through the update process, which went smoothly. It's nice having someone there to help you," Michael said.
"RF-SMART is an all-encompassing WMS that does everything we need it to do." Michael concluded. "We have the control we wanted, and using RF-SMART, we are more efficient and able to scale as our business grows."