Are you looking to transition your business to the cloud? There are many benefits to cloud computing, including the flexibility to scale with growth, lower infrastructure costs, decrease operation overhead, and drive innovation across your business. But moving business systems to the cloud is a project that should be met with a lot of planning, thought and coordination across your organization.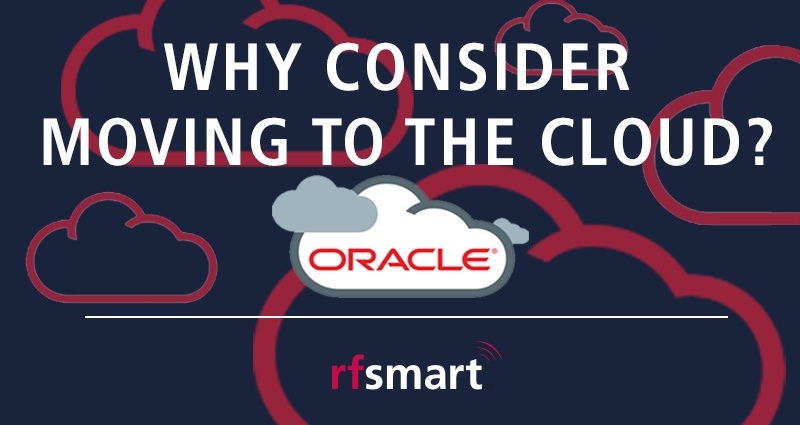 Why the Cloud?
According to Rick Jewell, Oracle senior vice president of applications development, "Half of CEOs say their industries will drastically change in the next three years, but 76% of chief supply chain officers say their digital transformation projects are not aligned." The answer, he believes, is for companies to embrace the benefits of cloud computing.
The trend of organizations moving their financial and supply chain systems to the cloud is backed up by the Worldwide Supply Chain 2017 Predictions that by 2019, 50% of manufacturing supply chains will have taken advantage of digital transformation. The remaining half will be held back by outdated business models or functional structures.
What does this mean for you? If your business isn't already considering cloud, you're already falling behind. Transforming your supply chain operations and keeping pace with changing business requirements is something companies must do if they want to stay competitive.
Why Should You Look at Oracle for Cloud?
Oracle has quickly become a leader in successfully moving organizations of all sizes to a modern integrated cloud platform. Oracle Cloud's suite of products is designed to scale for all businesses. You combine that with the acquisition of the major cloud player NetSuite, and the message that Oracle is a vendor of choice for cloud is stronger than ever.
Just look at this statistic from Oracle's website:
"More than 25,000 business customers rely on Oracle's cloud every day. That is 29+ million weekly active users and 57+ billion daily transactions."
Oracle Cloud offers a complete, innovative and proven cloud suite of SaaS applications that enable customers to transform their business. The full cloud suite offers different applications and modules. These modules include:
Customer Experience (CX) manages the customer lifecycle
Human Capital Management (HCM) is an HR solution
Enterprise Performance Management (EPM) helps with planning, budgeting and reporting
Enterprise Resource Management (ERP) is an end-to-end business management solution
Supply Chain Management (SCM) manages your supply chain
If you need additional services to extend your solution, the Oracle Cloud Marketplace has more than 4,000 Oracle applications and services to meet your business needs.
Is Oracle SCM Cloud Ready for You?
Oracle's SCM (Supply Chain Management) Cloud is a module to help your business gain better visibility into materials and cost management across your supply chain. As with most software, everything gets better with time. With every release, the SCM product continues to develop and provide more robust functionality. Oracle is now 2 years and 9 releases past the release of R11 (base manufacturing), and the Oracle SCM Cloud product is continuing to mature. Oracle SCM Cloud has 1800+ customers worldwide, and that number continues to grow.
RF-SMART + Oracle SCM Cloud
Inventory management enhances the ROI of your ERP investment by 30-50%. Today more than ever, mobile is essential to accurate and efficient supply chain execution. Any organization that moves, manages, manufactures, or fulfills inventory can benefit from using barcoding applications. If you are currently on an ERP that has mobile barcoding functionality, those processes can still be supported in Oracle SCM Cloud by using a mobile inventory solution like RF-SMART. By using mobile inventory, you can seamlessly support everything from receipt to putaway with real-time integration.
The RF-SMART Product Team worked closely with Oracle Product Strategy and Development to bring to market the first approved mobile inventory application for Oracle Cloud. Our functionality so closer mirrors Oracle Cloud, you can't tell where Oracle ends and RF-SMART begins.
Ready to evaluate your options for rolling out a transformational cloud project?
Keep reading for real examples of companies who've successfully moved to Oracle SCM Cloud and RF-SMART:
"In order to continue to bring the best product to market in a cost-conscientious environment, FairfieldNodal knew they needed speed, accuracy and efficiency in their technology systems. Knowing it would be more cost productive to consolidate systems to one platform (and that they wanted to move the Cloud), the FairfieldNodal team chose Oracle SCM Cloud as their ERP solution."