You've decided to implement a new Warehouse Management System. You've chosen your ERP, put a plan into place for training, and just before you're set to go live, you realize that you forgot about hardware. Will your old devices still work with your new system?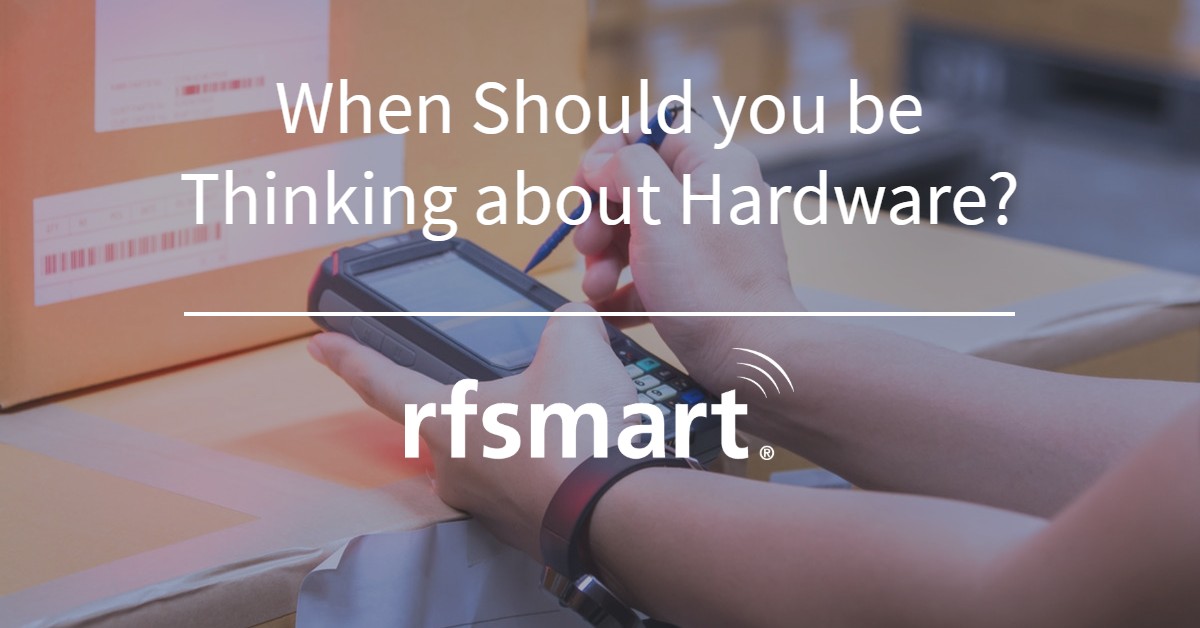 There is a lot to think about when it comes to your WMS implementation - after all, it's an exciting time in the life of your business. But sometimes things get lost in the shuffle. We once knew a company that ordered their hardware, had it arrive in their warehouse, and then realize that no one knew how to set any of it up! The easiest way to avoid a negative implementation experience is to get on the phone with a Hardware Partner. At RF-SMART, we have a team of professionals dedicated to hardware that can advise you on the right scanners, labels, and printers for your warehouse.
Today, we're asking some hard[ware] questions about the best time to introduce hardware into your implementation conversation.
What hardware do I need...and how much is it going to cost?
Step one is determining if your current devices are the best possible fit for your new WMS. A lot has changed in the handheld market with the advancement of solutions like Zebra's Mobility DNA and Honeywell's Mobility Edge platforms. Even if they are technically compatible, your current devices may not be recommended for your new ERP.
There are many factors to consider when creating your hardware budget: use case, environment, racking, scanning distance, and durability can all affect the price of your hardware. We often have customers who are ready to make the investment into barcode scanners, but don't realize that they will also need labels and printers to optimize their warehouse. On your initial hardware call, your Hardware Partner should be able to give you an idea of what you'll need and what cost you should expect. Ultimately, you want to think of the hardware in your warehouse as an investment. In the long-run, we think that you will find that the return on your enterprise device investment will be worth the initial cost.
How can I avoid a hardware headache?
One mistake that is easy to make is expecting that your old hardware will work with your new ERP. If you plan to use your existing hardware, consider what browser you're currently operating in. Many newer WMS systems require a HTML5 browser. You can tell if your WMS will work with your hardware if the webpage fits to the screen properly, the buttons on the screen work, the touch screen is responsive, and the data collection is fast and accurate. The hardware market is always evolving, so it may make sense to take a look at what newer technology could offer your warehouse.
The worst thing you can do when deciding to purchase hardware is waiting until the end of the project to purchase. The most successful implementations have the hardware onsite early. One reason to order your hardware when you order your software is that you may find that your device is on back-order, which can delay your go-live. When implementing hardware, it's best to allow ample time for setting up and testing each device.
So, when should I think about hardware?
You should ask about hardware the moment you decide to buy software, and then you should think about it every moment after! The devices you choose (and when you choose them) will shape the way your implementation goes. If a new mobile handheld will be a part of your implementation project, try to make that decision as early as possible so that you can budget accordingly.
Here are some questions that you can ask to keep hardware from being an afterthought:
What is the lead time from when I place my order until I receive the devices?

Have we had a scoping call to determine the correct units?

Do I have a budgetary quote?

Do have everything I need for all my locations?

Does a service contract make sense for the devices I am ordering?
If you are looking to deploy hardware in your operations and are unsure what type of hardware will help you the most, RF-SMART can help.