Adopting labels for storage bins in the warehouse can reduce errors and save time and money in your picking processes⁠. Storage bin label optimization is the first step to streamlining your operations and becoming a more organized and efficient warehouse.
| | |
| --- | --- |
| In this blog post, we will discuss the top three things to consider to improve your storage bin labels before implementing them in the warehouse. | |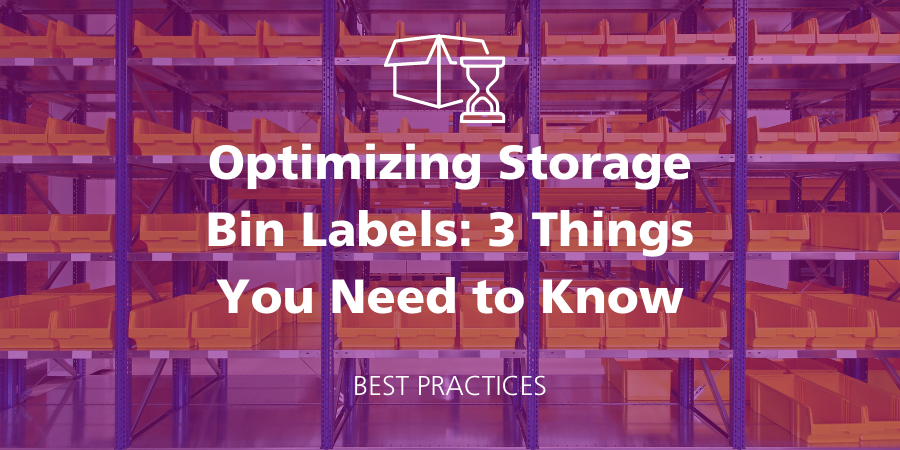 Selecting the Right Type of Storage Bin Labels for Your Warehouse

When choosing your storage bin labels, asking the right questions can help you make the right decisions for the longevity and function of your warehouse.

Before selecting a type of storage bin label, consider all variables of your warehouse:
Environment –
Labels in the warehouse need to be durable enough to survive certain extreme conditions, including varying temperatures and chemicals in the warehouse. You need to also think about the temperature at the time of application in order to make the most out of the adhesive, especially when it comes to freezing environments.

Example: The location of your bins, whether inside or outside, can introduce both humidity and light into the equation. If lack of light seems to be an issue, retroreflective bin labels can be a viable solution.
Size –
The size of your business doesn't affect your storage bin label type because the frequency of scanning does not deteriorate the label or shorten its lifetime. However, the size of the label itself can make a considerable impact on user-friendliness and its daily usage in the warehouse.
Example: Depending on the distance between the user and the scannable material, you may benefit from a larger label. This can help reduce the time it takes the user to find the label with the scanner over a long range.
Compliance –
The features of your hardware, including its scanning distance capabilities, can directly affect the type of labels you need in your warehouse.
Example: If you do not have the luxury of more extended scanning capabilities, there are other organizational adjustments you can make for ease of use and compliance.
Learn how to maximize your scanner read range

Logistics and Function –
Your labeling needs to make sense for your warehouse. Before moving forward with labeling, assess your racking, picking operations, and label locations. If you find that your workers are more efficient when scanning at eye level, you may need to adjust where your labels are located.
Example: If your racks are stacked high, totem labels can be situated on top of one another to access all barcodes in one easy-to-reach location. You can also consider PVC hanging signs, especially outside, to use the height of your warehouse. Hanging signs can be a helpful alternative to finding a durable solution for floor areas.
Materials –
With a variety of suitable surfaces for your bins, specific labeling material can help binding last in the long term. Depending on the logistics of your business model, you may also need to consider investing in movable material.
Example: If you need a more flexible alternative, magnetic labels offer a semi-permanent solution that can be moved long after establishing a picking path. However, if you are set on the location of your bins, a more permanent adhesive can be the right fit for your warehouse.
Storage Bin Label Design –
The user experience relies inherently on the label's design, making it easier to read, scan, and guide daily use. The two requirements we advise having are a barcode and readable text for the base of your label.
Outside of these two necessities, design can include colors, arrows, logos, and more. Although we suggest logic and simplicity at the base of every design, there is no singular solution fit for all our customers due to variations in environments, needs, and warehouse conditions.

Learn how to make printing easier with a flexible, integrated solution
How Can Storage Bin Labels Help in the Warehouse?



Although seemingly simple in its core function and design, storage bin labels are a solid foundation of bin sequencing. Labels can optimize your efficiency in multiple ways.

Bin labels can be instrumental with:
Locating items, assembling orders, tracking inventory, and managing orders to maximize efficiency

Navigating

picking paths

and maintaining the organization of the warehouse

Eliminating the paperwork, effort, time, and labor it takes to document picks manually

Reducing human error when there are similar products in the warehouse

Providing a standardized system to use when managing or organizing new inventory
How to Optimize Storage Bin Labels for Warehouses

Make the most of your effort in organizing your warehouse with these tips to maximize the implementation of storage bin labels in your warehouse:

1) Create a Pick Path Before Bin Labeling
Relabeling can cost both time and money. In an effort to help reduce the risk of going over budget, arrange a warehouse pick path before labeling.
Need help finding the quickest and most ideal path?

Read more about our best sequencing practices

2) Adopt Scannable Bin Labels
Our Hardware Professional Services Team can work with you to fortify the compatibility of your scanners with the barcode labels. Be sure to test out their scanning properties before implementing them in your warehouse.

Find the best printer for barcode labels

3) Consider Using Movable Bin Labels
For a smooth transition as you adopt bin labels, choose material and other adaptations that accommodate your warehouse environment.
For example, sheet magnets can save you time and money if you find the need to reorganize your warehouse or experience a transformational shift in your product.

Consult with RF-SMART about the Best Labels for your Storage Bins



RF-SMART can help you optimize the foundation of your warehouse from the first day of implementation. When it comes to labels that are built to last, our labels are coated with durable material that can easily be scanned from multiple distances.

To run a successful warehouse operation, it's all about the details. With quality labels for your storage bins, RF-SMART can handle the creation and printing, leaving you to allocate your time to your day-to-day business.

If you're ready to optimize your warehouse with storage bin labels, get in touch with our team to see how this can make an impactful difference in your daily operations.