A leading NetSuite WMS solution, RF-SMART is the mobile execution arm of your supply chain. If you are considering a tool like RF-SMART to modernize your supply chain, you probably have some questions about selecting, implementing, and making the most of your warehouse management system. Having worked with 1000+ NetSuite customers, here are the most frequently asked questions we hear.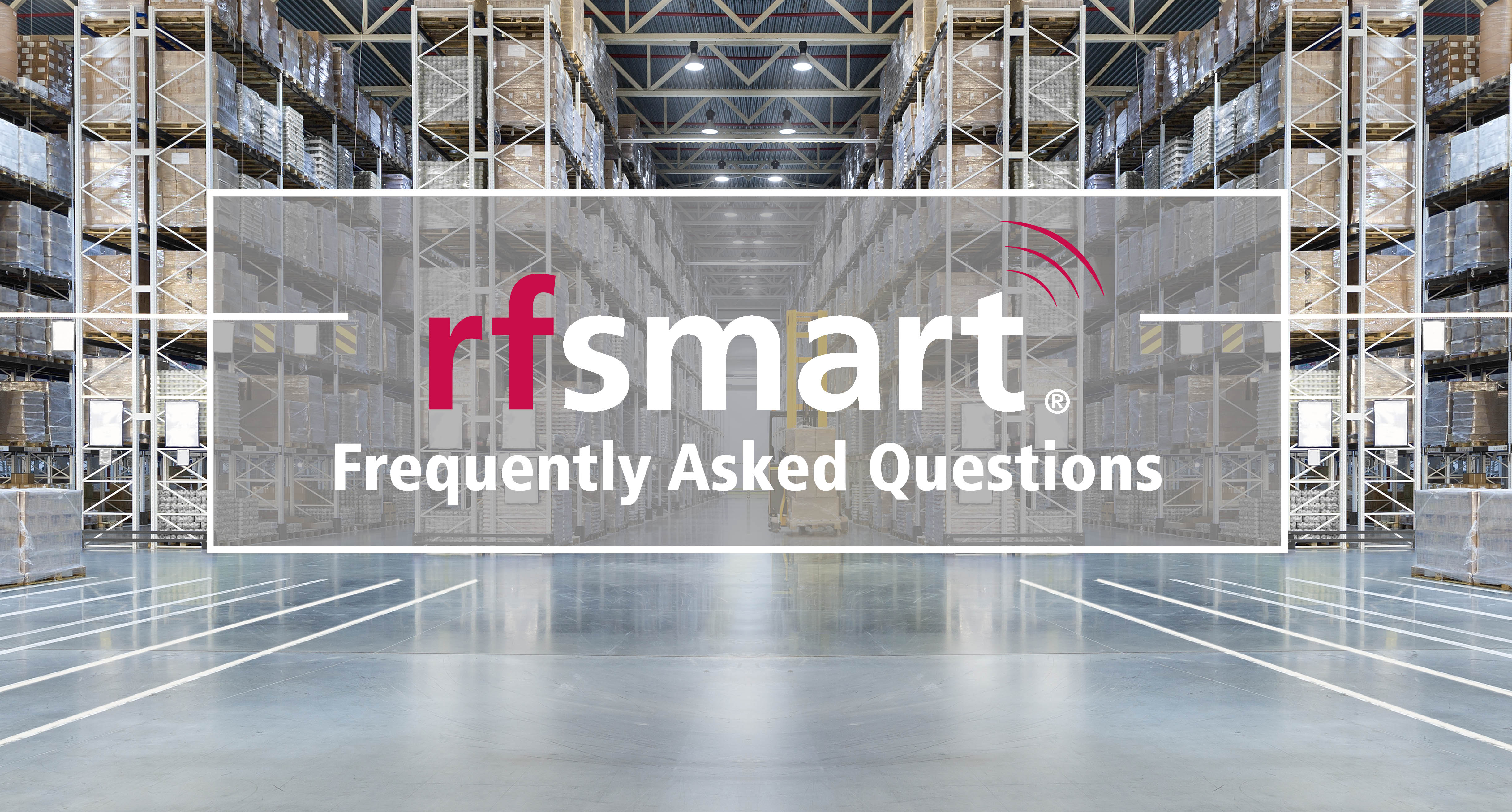 Does RF-SMART require certain NetSuite modules?
RF-SMART does not require NetSuite modules, however you do need to have the corresponding inventory or manufacturing functionality enabled in NetSuite. For example, you can't do RF-SMART Assembly Builds without NetSuite Work Orders.
While RF-SMART supports native NetSuite functionality, we also provide value-added features like Cycle Counting, Replenishment, three different Picking Options, a seamless Packing Process and the ability to pick and count at the same time.
We also leave the bin decision to you. RF-SMART works with Bin Management, Advanced Bin Management or no bins. If you decide later to add bins, our consultants can help you with the transition.
How Does RF-SMART Integrate to NetSuite?
RF-SMART is a Native Built-For-NetSuite solution, which means our architecture resides on the Suite Cloud Platform for high reliability. RF-SMART mobile workers communicate with NetSuite directly, in real-time, with no servers between the worker and NetSuite and no code on the devices. This provides faster response and fewer failure points. And as a Native SuiteApp, we ensure our solution works with every release of NetSuite - which is one less thing for you to worry about.
Are all SuiteApps built for NetSuite? If a solution is on Suiteapp.com, then it is a Built-for-NetSuite solution. However, there are three different levels of the Built-for-NetSuite (BFN) badge. It is important to understand the difference in badge types when evaluating different mobile inventory solutions.

Learn More about the different BFN Badge Types
How do I know RF-SMART can support my business now and in the future?
The majority of our customers are fast-growing companies looking for a solution that can meet their inventory management needs now and scale with them as they grow. RF-SMART offers different functionality bundles that can support all business sizes - from companies needing standard distribution, to larger companies looking for full WMS capabilities. Our NetSuite functionality covers the major verticals and industries that NetSuite supports.
These bundles offer the flexibility to meet you where you are right now, with the option to upgrade later without needing to implement a whole new product. Bundles also give you price flexibility, as a base bundle will have less functionality and initial investment than if you needed advanced WMS functionality. We also have advanced add-on modules like Pick Planner, License Plating, Work Center Reporting and Automation for machine integration.
Great questions to ask as you are evaluating WMS systems are: Will you need to implement and pay for complex solutions right now that you aren't ready to use? Will you need a whole new system all together? Or will it be easy to scale the functionality as you grow?
How much does RF-SMART cost?
The answer is that it depends. As with any business investment, you need to budget for an inventory management system. A helpful list of factors that can influence the cost of a mobile WMS for NetSuite include:
Length of Contract
User Count
Type of WMS or Bundle
Advanced Modules
Maintenance, Support & Service Fees
Customizations
Implementation Complexity
Read More about How these Factors Impact Pricing
How long does it take to implement RF-SMART?
This answer also depends on a few factors, the first being where you are in your NetSuite project. The length of the project depends on complexity and scope. Basic implementations are fixed bid and take place over a period of weeks, while our more complex implementations could take a few months and require on-site support. Many of our implementations are completed remotely with our services team hosting multiple training sessions with your team, and when on-site services are required (or simply just desired by the customer), we have a dedicated team that works with our customers that way as well. Minimizing your implementation time and cost means you see ROI faster.
What happens if we need to contact support?
Customer satisfaction is our primary business. Should an urgent issue arise, RF-SMART offers support hours in each customer's local time zone, worldwide. Production critical issues, where your warehouse operations are at a standstill, are addressed within an hour of ticket or call submission and are worked on continuously until resolved. Our helpdesk provides you with a single source for questions about your RF-SMART solution.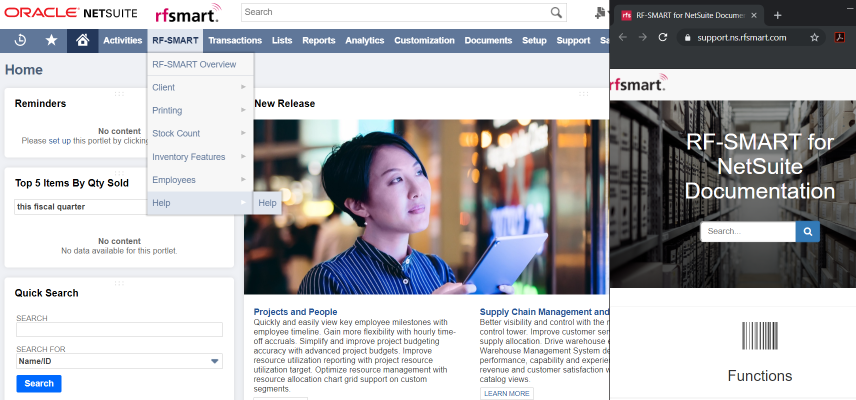 The RF-SMART Help website can be accessed straight from the RF-SMART tab in NetSuite. This gives you one location to easily access documentation, support resources, checklists, features and function overviews. Our support team is also constantly adding resources, articles, videos and webinars to our customer Knowledge Base site.
What hardware do we need and when should I be thinking about it?
You need to be thinking about hardware and wireless infrastructure as soon as you decide there is a new project. One common mistake companies make is expecting their old hardware will work with their new ERP or waiting until the end of their project to purchase their devices. If they don't arrive on-time you face delaying go-live.

The easiest way to avoid a negative implementation experience is to consult with a Hardware Partner. At RF-SMART, we have a dedicated hardware team that can advise you on wireless coverage, picking the right barcode scanners, and printers and labels for your project.
As a top-tier partner with leading manufacturers, RF-SMART has a list of devices and printers that are tested and certified to work with both NetSuite and RF-SMART. When purchased through us, these devices are supported by our Helpdesk – resulting in a turnkey solution and better customer experience.
Have other questions?