Are you evaluating a cloud-based ERP solution like NetSuite and need an inventory management tool to fill gaps? A warehouse management system (WMS) connects to your ERP; it stores the location and controls the movement of your inventory from receiving to shipping. Implementing a WMS can help you keep better track of your inventory and improve many business metrics, but how much does a WMS cost?
As with any big business purchase, you need to budget for an inventory management system. While each solution will vary on pricing, we have put together an overview of how cloud-based SaaS WMS solutions are priced - and the different factors that will influence how much you will pay.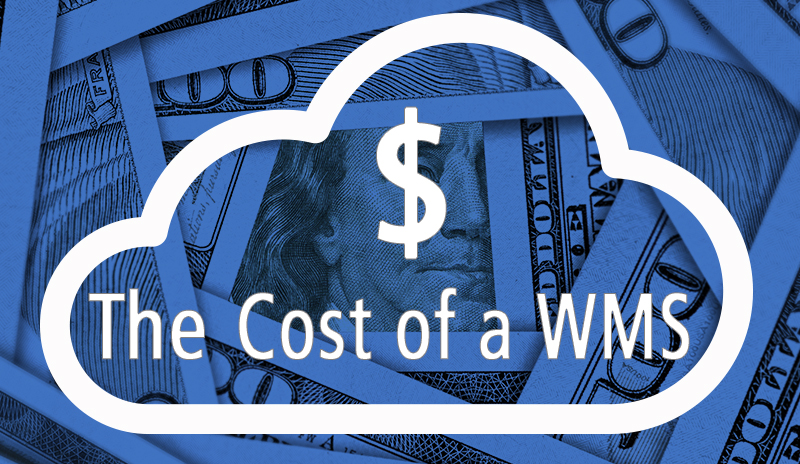 The rise of SaaS WMS
According to Gartner, by 2020, all new software entrants and 80% of historical vendors will offer a subscription-based business model (referred to as SaaS, or Software as a Service). While there are many advantages to cloud-based WMS, in the NetSuite space, we are seeing high adoption for businesses looking for a solution that can meet their needs now and scale with them as they grow. The initial cost of SaaS products is generally much lower and more flexible than an on-premises solution. Here are some factors that can influence the cost of a NetSuite WMS solution like RF-SMART.
Factors that Influence NetSuite Inventory Management Pricing
Contract Duration – Since SaaS based software is subscription based, you can choose the duration of your contract. When evaluating your options for subscription-based solutions, ask if you can lock in the rate with a multi-year deal. Signing up for NetSuite for 3 years? Make sure your WMS subscription is at least that long too.

User Count – Most SaaS models have a per-user cost per month. This type of setup allows for businesses to scale as they grow. You only need to purchase the amount of users you need. On the other hand, the cost per user is typically higher for low user counts. When evaluating options, ask if there is a minimum number of users or if you can lock in user pricing. Have you accounted for your proposed hiring or peak seasons?

Many user subscription costs are based on concurrent users (the number of users who would be logged in scanning at one time), per user, per month.

Bundled Functionality – How complex is your operations? The more inventory you have, the more people touching that inventory, and higher volume of orders, the more functionality you will need.

Some NetSuite WMS solutions offer bundles of functionality. Bundles offer the flexibility to bring the cost to where you are right now with the option to upgrade later as your business grows. If you are a startup a base functionality bundle will be less initial investment than a manufacturer or distributor that need advanced WMS functionality.
Advanced Add-on Modules – SaaS products typically have advanced features that you can purchase separately from the core bundle of functionality. However, these advanced modules will be a separate line item.

For example, Retailers may want a location leveling or pre-allocation tool, while Distributors may want additional packing functionality.
Maintenance, Support & Services Fees – Once you buy a WMS, it has to be installed and configured, and your team trained on how to use it. With NetSuite, the installation services can be fixed fee bundle to get you up and running.

There is also a yearly maintenance fee for support. One critical component of maintenance is keeping the WMS compatible with the latest release of NetSuite. Since SaaS ERP software is typically hosted in the Cloud, customers are generally on the same version. With each new NetSuite release, you are pushed to the latest version. A Native NetSuite WMS SuiteApp is required to make sure it works with every release of NetSuite.
Learn more about the different types of NetSuite WMS SuiteApps

Customizing Functionality - Customizations, Enhancements, Modifications – no matter what you call it, it means that part of the software has been changed for your business.

We recommend understanding best practices and asking yourself, what is the business use case for this change? Does it provide value or can results be achieved by adapting your business processes? If you decide to move forward, there will be an initial cost to make the changes and typically additional charges to support that modification when new releases come out.
Hardware – With any mobile inventory project, there are things like printers, scanning devices, barcode labels and Wi-Fi infrastructure to factor in to the price. All of these items will influence your experience with the software, and should not be forgotten or delayed until right before go-live. Many leading WMS solutions, like RF-SMART, have a dedicated hardware team that can recommend hardware and services for your specific project.
How do you know if a WMS is worth the price tag?
As you are evaluating solutions, the key principle you should keep in mind is whether the value of a WMS meets your needs and can scale and grow with your business. Before engaging in any pricing discussions, you should have a clear understanding of your:
Current warehousing processes
User counts
Business metrics you'd like to improve
Compliance requirements
Budget
Timeline for implementation
How do you justify the cost or formulate a budget? RF-SMART WMS is known to help in multiple areas like inventory accuracy, improved operational efficiency, and increased worker productivity. Pick one area of improvement and ask yourself "If I can improve that, how much will it save me?"
Here is one example: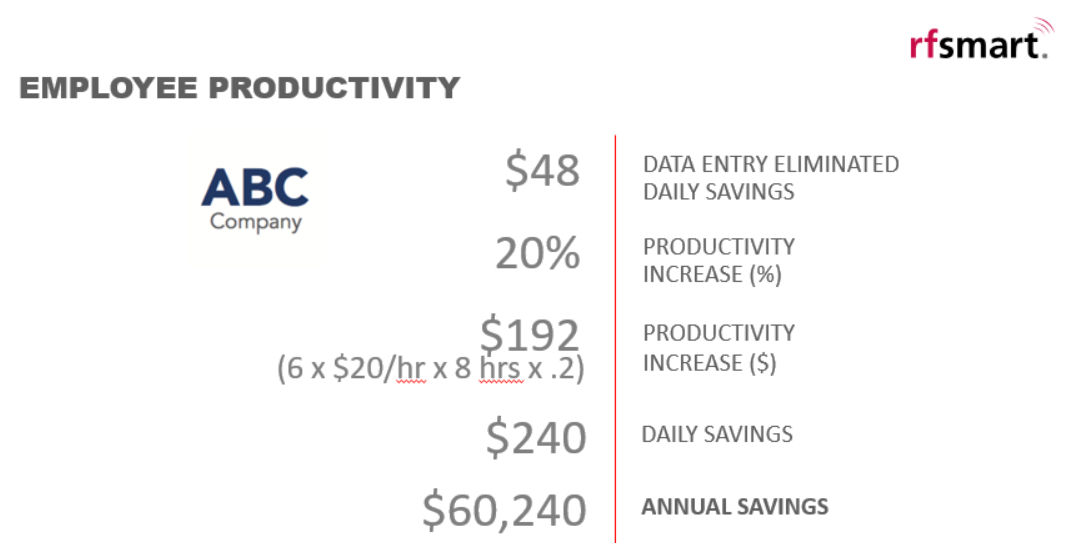 Every operation is different. Speak to one of our Sales Executives to see how RF-SMART can meet your WMS needs and your budget.