Faster Processes
Designed with ease of use and configurability in mind, RF-SMART Shipping utilizes automation for optimal performance. In a matter of seconds, just scan a sales order or tote, use a calculated weight or a quick scan to weigh the shipment, scan the barcode to select the box size, and print the label!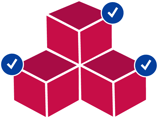 Reduced Shipping Costs
The automated rate shopping feature ensures each package has the best ship method based on when each carrier estimates the package will be delivered to the chosen destination. Customers like Slate Rock FR have seen significant savings - as much as $4,000 a week saved in shipping costs.

Streamlined Decision Making
The no-code rules engine automates even the trickiest business decisions by setting customized rules that get packages out on time at the lowest rate. By configuring shipping preferences, decision making is taken out of the shipper's hands entirely, creating an error-proof shipping process.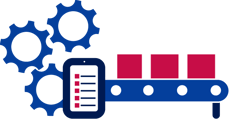 More Visibility
RF-SMART Shipping offers a key KPI dashboard with metrics that can help make better business decisions. Some key metrics included are: shipments per carrier service, carrier speed, shipments by user, average shipment cost, and more.