Picking
Picking is a core activity that significantly impacts the overall productivity of your warehouse. Through real-time inventory data and it's user-friendly UI, RF-SMART streamlines and simplifies the picking process so that each pick is achieved as quickly as possible without errors.

Counting
Inefficient or inaccurate inventory counts can impact purchasing, production, sales and finance, so getting them right is vital. RF-SMART supports wall-to-wall inventory counts and also provides a variety of cycle counting options compatible with NetSuite.

Receiving
By automating data collection at the point of receiving inventory, you can eliminate costs associated with manual data entry and inaccuracy. Scan POs, assign putaway locations and create receipts in minutes with RF-SMART.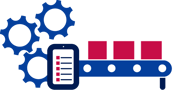 Manufacturing
Mobile manufacturing enables NetSuite customers to gain accuracy and efficiency across their production processes too. Capture batch, lot and serial numbers for full inventory visibility, and leverage powerful reporting and tracking tools to truly understand your operations.