Before implementing JD Edwards and RF-SMART, Select Harvests automatically recorded product as it arrived in their facility across weighbridges. Production receipts were then generated out of PLCs, and all data was integrated into their production floor as stock moved through their facility. However, the addition of JD Edwards posed a challenge: either replace all automation with systems that would integrate to JDE, or find a way to integrate the existing systems into JDE.

In searching for a solution, the team at Select Harvests compared several options, but it was RF-SMART that allowed them to move forward with their JDE implementation and continue using their automation machines. "The value of RF-SMART is that it provides both the automation and data acquisition that we were looking to combine," said Peter Holman, Group IT Manager. "It simplified the business problem of getting data into JD Edwards."
Automation Solved
As machine integration was a requirement for go-live, Select Harvests found that implementing RF-SMART was a much simpler project to tackle. "What's nice about RF-SMART is that we just had to connect it to what's on our shop floor. There was no in-depth analysis required as to how to handle the data," Peter said. "It was easy, and it worked."
RF-SMART now receives transactions as they come across the weighbridges. In fact, whether weighing stock as it comes into the plant, handling material issues, or creating work orders in the processing facility, all transactions run through RF-SMART Automation.
"Without the automation module, we would be doing manual completions against the work orders in JD Edwards, which would be very difficult to keep up, or we would have to create our own interface," said Peter. "With RF-SMART, we acquired an entire set of mobile transactions that support our processes."
Manufacturing and Labeling Operational Efficiencies
Aside from the Automation Module, Select Harvests is running RF-SMART at their primary processing and packing facility to control the movement of inventory. Since Select Harvests uses process manufacturing, RF-SMART provides work order completions for by-products and co-products. Using mobile transactions for purchase order receiving, inventory transfers and picking, RF-SMART is allowing Select Harvests to create operational efficiencies.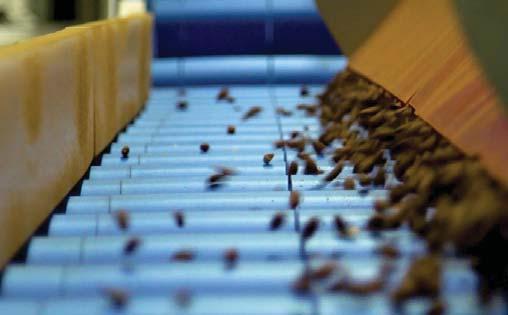 The team also utilizes Print Suite Bridge to streamline the label process. "We design the label, put it in the library, and then Print Suite Bridge writes to the interface. Our users just need to select the label and printer. It's very simple," Peter said.
These simple, efficient transactions have allowed Select Harvests to keep JD Edwards clean and free of modifications, yet provide the flexibility they need. For example, with one scan, users can complete a purchase, ship confirm, invoice, and issue to a work order. "If we had to do that in JD Edwards without lots of modifications, it would be impossible to maintain," said Peter. "But with RF-SMART, I can put these kinds of transactions together. I find that one of the most useful aspects."
"From an IT standpoint, it is the technical support that wins it for me," Peter said. "The complete understanding of RF-SMART and the way JDE works in the background enables the RF-SMART team to help me tailor the solution to meet our needs. They can advise what transactions to use in RF-SMART and what that will look like in JDE."
Looking Forward
RF-SMART will provide the platform and flexibility for Select Harvests to grow. The team at Select Harvests is already anticipating the benefits. "Everyone is expecting improvement in inventory control, lot control and management of materials," Peter said.
"With RF-SMART, we are getting all the financial transactions we need to support the organization. And it gives us the flexibility to meet new challenges as the business evolves," Peter said. "Since assembling this project, we haven't looked back."