With a variety of operations on site including a call center and marine shop, Mack's Prairie Wings looked to replace their homegrown solution with a cloud-based solution that would enable scalability.
Aim for High Caliber Functionality
From previous experience, Chief Operating Officer Eric Chin knew there would be efficiencies gained by
replacing their homegrown solution with a scalable cloud-based ERP and eliminating paper-picking processes. Looking to utilize one application across all facets of their business, Mack's Prairie Wings implemented RF-SMART. Using RF-SMART as the go-between from their retail stores and warehouse, Mack's Prairie Wings relies on picking, receiving and dynamic stock counts to keep their inventory accurate and operations efficient.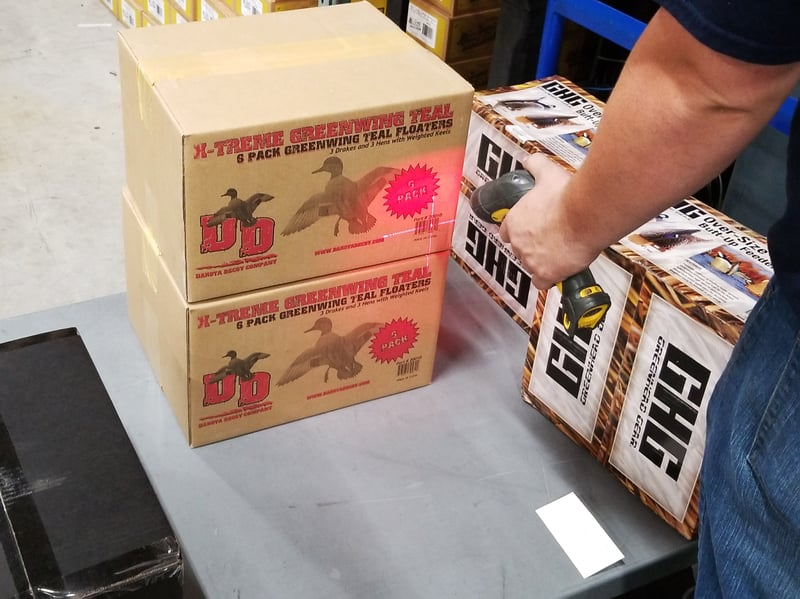 In addition, RF-SMART's has helped Mack's Prairie Wings solve gaps in NetSuite, including the ability to create label customizations. Needing a specific label to go on merchandise in the store, RF-SMART was able to create the functionality to print a label with the item number, description and price – something Mack's Prairie Wings was unable to do in NetSuite.
Pick planner functionality has also boosted Mack's Prairie Wings efficiency by allowing orders to be shipped much faster. With over 60,000 SKUs and a very diverse product mix (from 150 lb. deer stands to small jewelry), Pick Planner allows Mack's Prairie Wings to zone by bins and then zone pick by task lines.
"Zone picking let us realize parcel savings," Eric said. Pick Planner accommodates the fast moving items and gets the high volume items picked, packed and shipped more quickly. "Our overtime and labor hours are significantly less than the previous year. We saved around $60K in labor last year," said Eric.
"This positively impacts our efficiency and quality, which in turn, improves our customer service."
Benefits Take Flight
"The quality of what we had before compared to RF-SMART is night and day," said Eric. Previously, Eric's team would have hundreds of orders to trouble shoot and correct each day. Using RF-SMART for picking and packing, they are down to just a few. "I expected our accuracy and quality to improve, but not as much as it has. Our errors are down significantly and it's been a quick ROI," Eric said.
Cycle counts are also vastly different. In the past, Mack's Prairie Wings either completed manual cycle counts or outsourced them, both of which were costly. Using RF-SMART for cycle counts and inventories, Eric's team has been able to reduce the time for complete wall-to-wall physical inventories by two days.
They are also doing dynamic stock counts daily. This eliminates the need to take large variance hits during the annual physical inventory. "Without a good cycle counting program, the inventory on our website was not correctly reflecting what we had on hand. This led to many back orders and lots of lost business. In a niche market, we can't afford to lose customers," said Eric. Because RF-SMART instantly updates NetSuite, customer service reps are able to communicate precise order status to their customers, leaving happy customers.
Gauging Success
With RF-SMART, Mack's Prairie Wings is a happy customer themselves. From implementation to training to support, RF-SMART has proven to be an easy solution to use. "Our employees love it. They scan, and RF-SMART prompts them for the next step. They don't have to guess if they've picked the right item," said Eric. "RF-SMART is exactly what we needed. Hands down, it's the best WMS solution for NetSuite."