Having no products of their own, Argonaut fulfills a specific niche helping companies get products to market or manufacturing products at the end of their life cycle. Argonaut's customers rely on their expertise and quality management processes. From this unique position, Argonaut had specific business goals and sought business partners who could help achieve their company vision.
Goal #1: A Successful Beginning
The management team at Argonaut has over 150 years combined biotech and pharma industry experience. As they designed the operations for their new company, they planned the business and system processes in parallel.
"We had a unique opportunity to work on both of those at the same time," said Ben Siedschlag, Supervisor of Manufacturing and Operations. "We layered our unique needs in with the systems we wanted to customize a process that was cGMP compliant, user-friendly, and easy to implement."
After looking at several different ERPs, including some well-known Tier 1 ERP systems, Argonaut chose NetSuite because of its capability and flexibility. NetSuite partner RSM worked closely with Argonaut to understand their unique needs and help them find the right fit.
Goal #2: Successful Management of Materials
Tasked with setting up and designing the logistics portion of the business, Ben looked for an inventory management solution that would scale with the projected growth of Argonaut. His functionality requirements included lot and expiration traceability, cycle counts, bin location and material identification, and the ability to generate and print barcode labels. He wanted to be able to do this on a handheld device so employees could perform these tasks from anywhere in the warehouse.
"RF-SMART was the solution for our must-haves with minimal customizations. It has the out-of-the-box functionality we needed, both for inventory management as well as regulatory management," said Ben.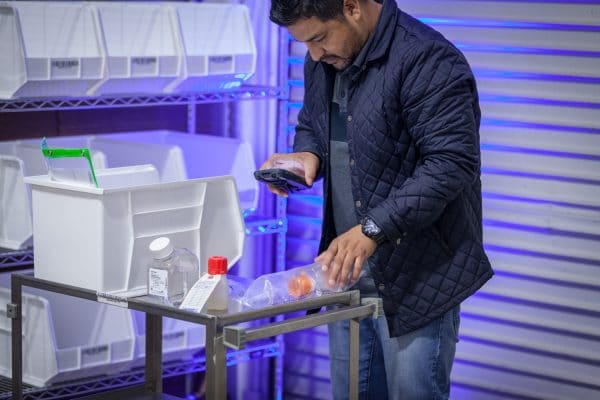 Goal #3: Successful Compliance
Being compliant with medical regulation ISO 13485 is essential for Argonaut. Without a system in place to guarantee compliance, errors typically associated with paper-based environments would put their business and customers' materials in jeopardy.
RF-SMART allows Argonaut to have lot and SKU traceability for ISO 13485 compliance, giving Argonaut the ability to efficiently identify and create labeling for traceability - for everything from raw materials to finished goods. What's more, RF-SMART provides this information in real-time.
"The real-time movement of material through NetSuite as it links to our manufacturing process is hyper-critical. If it's not in real-time, then we're not in compliance," said Ben.
A Successful Project
Controlling the overall inventory and materials flow, RF-SMART is now integrated at the receiving dock, into manufacturing, and then finally the pick pack ship services.
"RF-SMART lets us keep that process flowing without errors. In contract manufacturing, our largest priority is the protection of our clients' materials. We have zero margin for error, and RF-SMART ensures that we are error-free."