This OEM capital equipment designer, innovator and manufacturer uses break-through inkjet technology to create products with features attractive to the consumer, but at a lower cost of ownership for display manufacturers. Kateeva first looked to NetSuite to provide the structure needed in their organization. Once the backbone was in place, Kateeva asked NetSuite for their recommendation for a solution they could implement simultaneously without much downtime.
"RF-SMART was the only solution with enough capability to take our configurations and still be able to operate," said Donald Cheng, VP Operational Excellence & Business Systems for Kateeva. "Our systems are very complicated, and we are handling massive amounts of materials to go into just one printer. We needed a system that would scale, and we found that in RF-SMART."
Efficient Inventory Management
Before implementing NetSuite and RF-SMART, Kateeva was primarily paper-based. With no systems in place for inventory management, everything was done manually, taking hours each day. That included counting.
At best, counts were done quarterly. Because Kateeva did not have an inventory management system that integrated with their accounting system, there was a significant lag between the data points. "We lacked a tight control over the movement of our inventory, so it was impossible to know what we had," Donald said.
With RF-SMART, Kateeva can now run stock counts on a dependable schedule and are quickly seeing the benefits. "Using RF-SMART's mobile stock counts has allowed us to be more productive," Donald said. "We are counting double the inventory in 50% less time - that's a big plus."
Additionally, with RF-SMART residing in NetSuite, there is no longer a need for manual inventory reconciliations.
Accurate Inventory Matters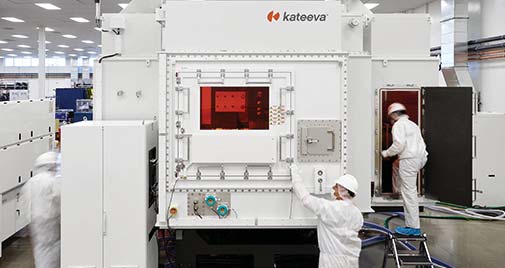 Kateeva is also employing Work Order Assembly, Picking, WIP, and Bin Transfer functionality. For a company with lots of inventory changes to keep up with industry advances, RF-SMART helps Kateeva stay on pace with the changes. "RF-SMART is nimble enough to account for the changes and manage the levels of fiscal accuracy that's required by a world-class company," Donald said.
"Before NetSuite and RF-SMART, we couldn't give an exact measure of inventory accuracy," said Donald. "But with RF-SMART as our consistent system of record, we have been closing the inaccuracy gap monthly. Our inventory is currently 99.97% accurate, and we have seen that level sustained over time. This critical aspect of our business is under control."
Warehouse Best Practices
As a start-up implementing NetSuite and RF-SMART simultaneously, Kateeva learned some best practices along the way. First, they learned to lean on their partners. While they have a top-notch IT department, Kateeva found great benefit from an RF-SMART site survey. "The folks at RF-SMART know how to optimize and set up the warehouse and WIFI signal to better work with the handheld devices," said Donald. "Working with them on that process was time and money well spent."
Additionally, having RF-SMART on site during the implementation was very valuable. By walking the shop floor with us, they knew exactly what to do to tweak the system and make it work like we wanted it to," Donald said.
With two implementations, Donald and his staff were stretched very thin. "By having the RF-SMART team here for training, we were able to keep the warehouse running," Donald said.
For a company focused on "moving at the speed of innovation," Kateeva is able to continue on their path of growth with NetSuite and RF-SMART. "Our volume is going up significantly, and RF-SMART scales with our growth," Donald said. "The flexibility and ease of use of RF-SMART is something we rely on daily."